DGC Modem
Jump to navigation
Jump to search
These are generic modems sold under different names (Voluxe, MagiDeal, Baoblaze, Infosec, Kirmax), labeled in the most generic way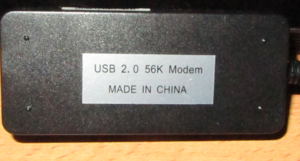 Well mine was named Kalea, opening the device it turns to be a connexant chipset CX-39010.pdf
Now I highly doubt these chips were made in 2021, the board itself is labeled 2017.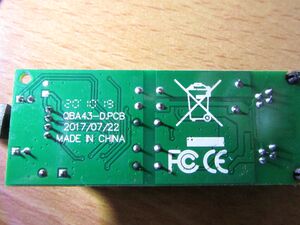 lsusb output:
Bus 001 Device 017: ID 0572:1340 Conexant Systems (Rockwell), Inc. USB Modem

But these seems to be hardware modems nonetheless, and they do resport do AT commands:
 Welcome to minicom 2.7.1
 
 OPTIONS: I18n 
 Compiled on Jul 22 2021, 00:00:00.
 Port /dev/ttyACM1, 01:10:34
 
 Press CTRL-A Z for help on special keys
 
 at
 OK
 ati
 56000
 
 OK
 ati0
 56000
 
 OK
 ati1
 OK
 ati2
 OK
 ati3
 CX93001-EIS_V0.2013-V92
 
 OK
 ati4
 OK
 ati5
 B5
 
 OK
 ati6
 OK
 ati7
 OK
There are linux drivers for these modems at linuxant however they're mostly junk and severely outdated.
However AT commands seems fully supported so you might not need any drivers at all.
DSPKOUT wasn't routed on the board so in order to get speaker output: